Tablet sorting for the
pharmaceutical industry
For decades, the inspection or checking of tablets has been an important production step for verifying and ensuring process quality. The tablets can be checked for gaps, cracks, bending, breakage and contamination, and, of course, their thickness can be verified.
The L.B. Bohle KA checker is the perfect system for mechanical checking of thickness of tablets or capsules.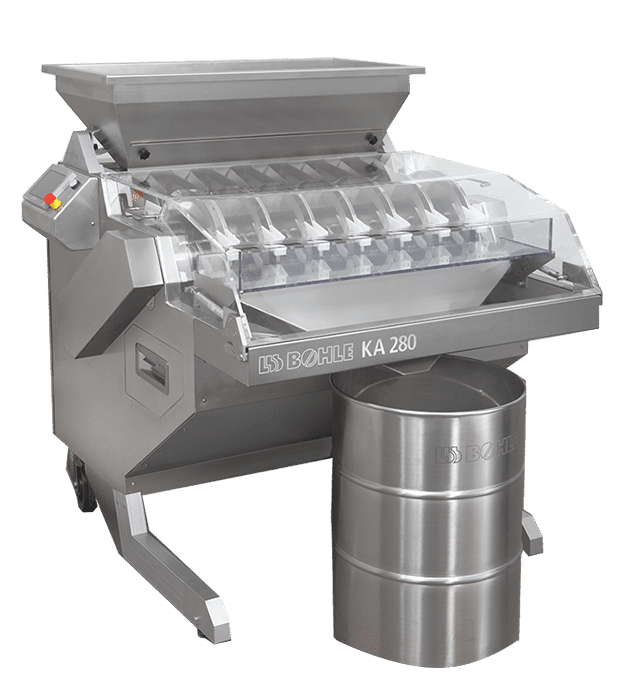 Sorting with the L.B. Bohle
Tablet Checker
The KA checker is used for the mechanical checking of the thickness of sugar-coated or film-coated pills, capsules or tablets. For process monitoring, the feeding hopper is filled with tablets to be tested. From there, a vibration system moves the tablets to the pairs of rotating sorting discs where they are sorted by consistency.
In process monitoring, the entire process as well as thickness can be verfied via a touch panel. The thickness measurement can be set with a tolerance of
± 0.1mm.
Sorting into the three tablet groups at a glance
Tablets that are too thick will be moved into a tray above the ejector plate
Tablets that are too thin will be moved into a tray below the middle ejector plate
Accepted tablets that are located between the upper and middle ejector plates: will be moved to the production area
Benefits of the Tablet Checker
| | |
| --- | --- |
| | Reproducible settings |
| | Precise calibration |
| | Valid process |
| | |
| --- | --- |
| | Low maintenance and easy cleaning |
| | Versatile integration into the production process |
| | Capacity: up to 1,000,000 tablets/h |
Our product brochure for tablet sorting with the KA Tablet Checker is available for download here:
Variations and
Technical Features
| Capacity | up to 1.000.000 tablets/h |
| --- | --- |
| Dimensions (L x W x H) | 1300 x 1200 x 1400 mm |
| Tablet thickness | 3 – 9 mm |
Your contact for the
Tablet Checker
Matthias Dietz
Area Sales Manager
inquiry@lbbohle.de
+49 2524 – 93 23 0