Leading technology company for the pharmaceutical industry
As a leading technology company for pharmaceutical solids production, L.B. Bohle develops and implements machines and processes for the manufacture of pharmaceutical products.
High-quality safe and environmentally sound machines and processes are the foundations for active partnership with our customers.
Our claim: We undertake all efforts to satisfy and delight our customers!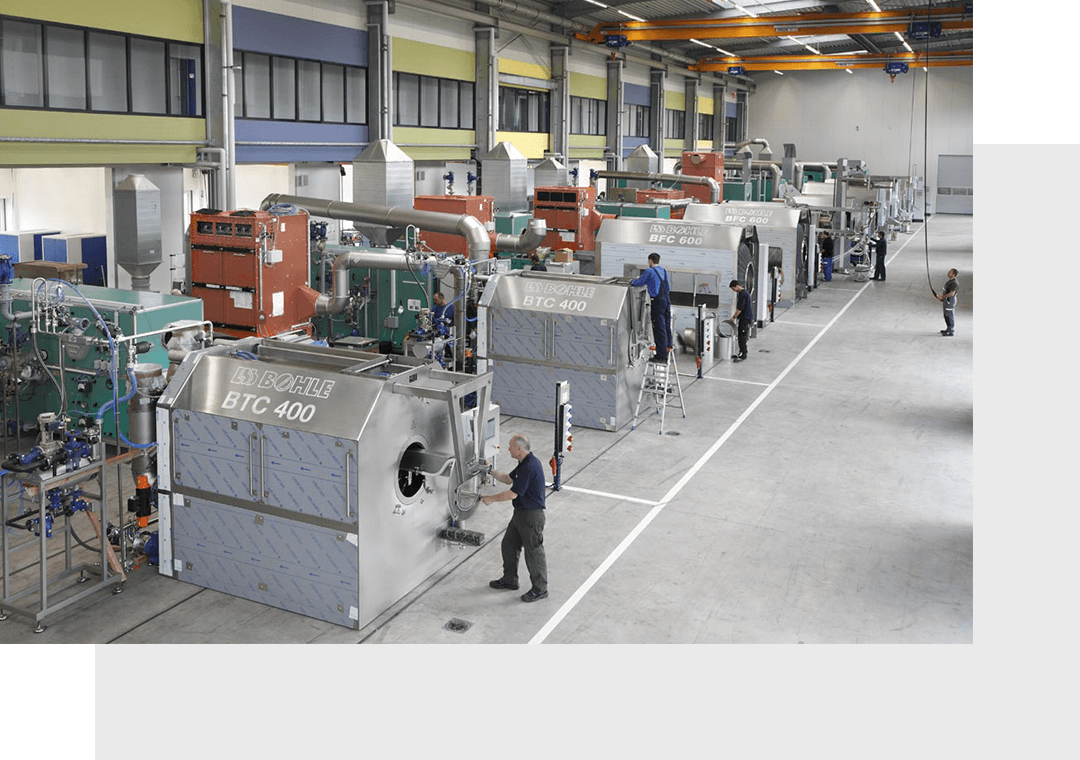 Comprehensive product offering for tablet manufacture
Our comprehensive product portfolio for pharmaceutical solids production comprises machines and processes for the following process steps:
Weighing and dispensing
Wet and dry granulation
Blending
Tablet coating
Tablet sorting
Handling systems and containers
Cleaning
Containment applications
Process monitoring
Thanks to the experience gained in recent years, our engineering excellence and high innovative strength, we have earned a reputation as an expert for stand-alone and all-in-one processes alike. We want to assert this position in future.
In addition to machines for classic lot or batch production, we have been producing machines and entire production plants for continuous manufacturing for years.
Roots in Germany,
Sales offices all over the world
L.B. Bohle with a global presence for its customers. The headquarters in Ennigerloh (Westphalia) manages the handling machines plant in Sassenberg, Plant 3 in Ennigerloh, where process machines are produced, as well as their own marketing and service subsidiary in Warminster (USA) with 15 employees.
Bohle also has sales offices in Asia, i.e. in Singapore and Ahmedabad (India), including more than 40 qualified sales partners worldwide. Today, the machine builder from Westphalia is a globally recognized brand.
Our service team supports customers with installation and start-up of systems and can also manage the entire assembly and production launch – no matter on which continent. Annual routine maintenance and calibration are professionally performed by the L.B. Bohle expert team.
We always work according to the motto: "Our service knows no time limits."
"Made in Germany"
In Germany, L.B. Bohle is a leading provider of special machines for the pharmaceutical industry. The production area covers approx. 40,000 m.
Our products stand out with their unlimited high product quality and reliability. L.B. Bohle manufactures exclusively "Made in Germany", in three locations on an operating and production area of 40,000 m2.
The head office and pre-assembly division is located at the headquarters in Ennigerloh/Westphalia, Plant 1. Two test and development centers, the Service Center, and the Technology Center, are also available for testing. In Plant 2 in Sassenberg the focus is on the production and development of the handling machines. Final assembly of process machines takes place in Plant 3 in Ennigerloh.
L.B. Bohle around the world
L.B. Bohle is operating around the world, accounting for an export rate of 80 percent. In the course of our history, L.B. Bohle has become a globally recognized technology company for machines and processes with its international presence. L.B. Bohle expanded to the USA as early as in 1990. The sales and service office was founded at the Warminster site in Pennsylvania. In the 2000s, the company successfully established sales offices in Singapore and China. The fast growing pharmaceutical market in India is managed from the Ahmedabad location. In 2017, L.B. Bohle Schweiz AG founded its own service branch in the canton of Lucerne.
Furthermore, L.B. Bohle has authorized sales agents in 45 countries.
lb-bohle-maschinen-verfahren