Continuous fluidized bed drying of
granules for the pharmaceutical industry
Continuous Fluidized Bed Dryer – BCD
Constant and continuous drying must be ensured in order to seamlessly connect to continuous wet granulation. To date, there have been dryers available on the market which did not meet the demands to continuous drying, and that only formed sub-batches.
With the continuous BCD fluidized bed dryer, L.B. Bohle enables continuous drying of granules for the first time. The results from the lab scale can be easily scaled to production scale for the pharmaceutical industry.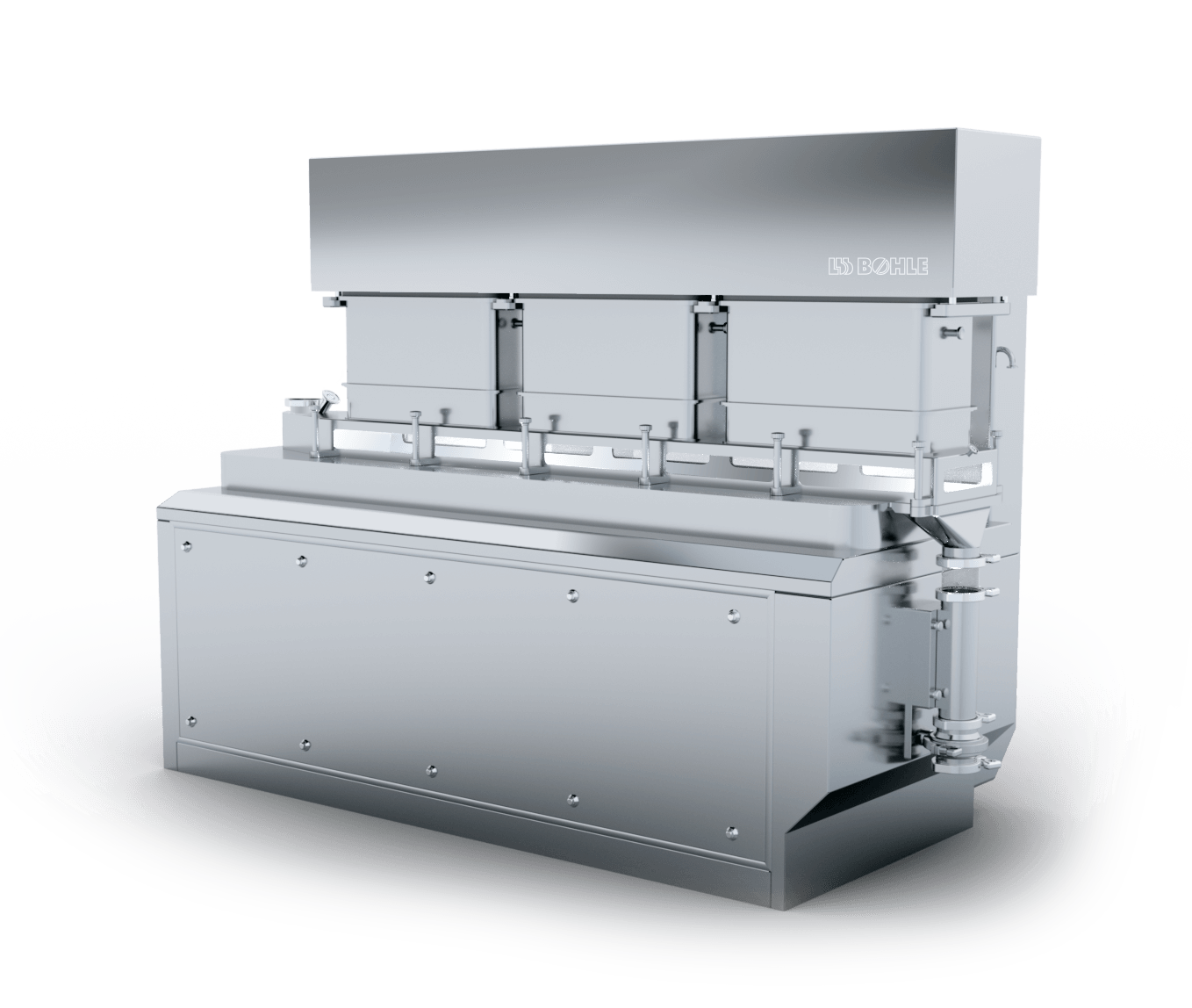 Granule drying with the L.B. Bohle
continuous fluidized bed dryer
Continuously produced wet granules drop into the dryer gravimetrically and without further transport steps, to be dried in a continuous process. The constant conveying of the wet granules from the inlet towards the outlet of the dryer is achieved by a controllable movement. This ensures gentle and very uniform drying. The movement introduced is so gentle that almost no re-blending results and all granules (even those of different sizes) are dried for the same length of time.
Innovative product filters ensure service lives of days without the need to interrupt continuous granulation. As a result, there is no loss of quality, even with finely micronized drugs.
Process Analytical Technology
The possibility of using PAT makes this innovative fluidized bed dryer perfect for continuous manufacturing of high-quality products in lab and production scales. For example, PAT can be used for continuous in-line determination of the granule moisture and for feedback control of the process.
Within the QbCon® 1 laboratory machine for throughputs of 0.25-2.5 kg/h or for production sizes of 25 kg/h and higher, the BCD is available in different sizes to make your production more efficient and of higher quality.
Benefits of the continuous fluidized bed dryers
| | |
| --- | --- |
| | First presentation of fully continuous drying, without formation of sub-batches |
| | Easy setup and comfortable operation |
| | Very long service life of the product filters – no process interruption |
| | PAT-probes only in contact with dry product – no undesired product adhesion |
| | Very short residence times and narrow residence time distributions |
| | Low process volume |
| | |
| --- | --- |
| | Rapid product development: Extremely fast execution of experimental designs with minimum product effort |
| | Selective ejection of poor product possible |
| | Four degrees of freedom to control the drying process |
| | Uniform drying across all particle sizes |
| | Smooth drying process: No fines formation in the process, even for highly porous granules |
lb-bohle-maschinen-verfahren
Your contact for Bohle
Continuous Fluidized Bed Dryers
Burkhard Schmidt
Sales Director
inquiry@lbbohle.de
+49 2524 – 93 23 0