Container drying station for
the pharmaceutical industry
The CDS container drying unit is a stationary unit for the efficient drying of containers and features versatile application option in the pharmaceutical, nutritional, food and chemical production.
The main components of the drying system are:
Heating and ventilation module
Control unit
Adapter tube for the suspended ceiling
Connecting tube between adapter,
suspended ceiling and drying lid
The heating and ventilation module consists of an aluminium frame which is cladded with stainless steel cassettes on the inside and connected to process air. The module is preferably mounted above the suspended ceiling, with the supply and process air pipes protruding through the suspended ceiling into the drying room. The process air (pharmaceutical air) is conveyed from the room as supply air through the module and heated to a maximum temperature of approx. 60 °C. The heated air is fed into the container through the process air pipe with connecting hose and an adapter cover on the container.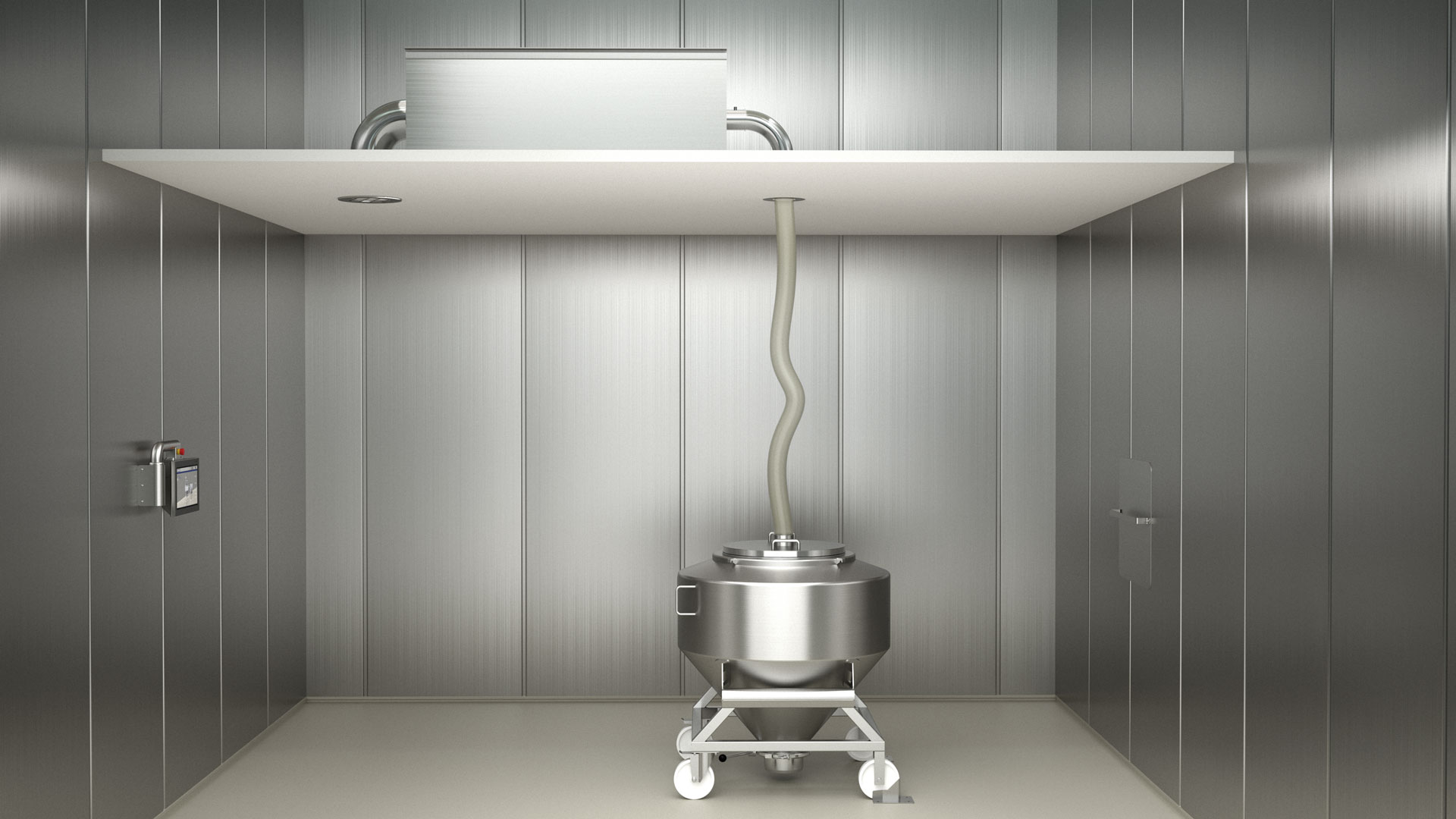 Container Drying with the
L.B. Bohle Drying Station
Dry containers without high-maintenance filters in the heating and ventilation module
The container valve of the container to be dried is opened so that the air introduced can escape into the room. This circulation process with heated pharmaceutical air eliminates the need for unnecessary and maintenance-intensive filters in the heating and ventilation module.
The control cabinet with the operating unit is mounted on the wall in the drying room and contains the main switch and the operating elements for the functions:
Heating ON/OFF
Preselection of drying time
Temperature control for setting and controlling the process air
CDS in combination with the PUR cleaning system
If the drying system is used in combination with the PUR container cleaning system, the operating options are integrated into the PUR touch panel. This allows for easy operation by means of a clear visualization within the PUR control system.
Benefits of the
Container Drying Station
| | |
| --- | --- |
| | Fast container drying |
| | Resource-saving process, low energy consumption |
| | |
| --- | --- |
| | Comfortable operation |
| | Optional use with the PUR container cleaning system |
Variations and
Technical Features
We offer our container drying station system in different technical designs.
The following list provides an initial overview of our system.
We look forward to your request for detailed information.
| Property | Indication |
| --- | --- |
| Air output | 500 m3/h |
| Drying air temperature | up to max. 60 °C |
| Weight | ca. 130 kg |
Your contact for
Container Drying
Valeri Raiswich
Area Sales Manager
inquiry@lbbohle.de
+49 2524 – 93 23 0