Containment for your production
Our containment systems ensure best protection for operators, products, and the environment. L.B. Bohle has been successfully offering stand-alone and all-in-one solutions in the containment area for years. Our product portfolio ranges from pilot-scale systems to production systems for large batches. All our applications are user-friendly. Opt for our functional, efficient and safe systems and optimize your production.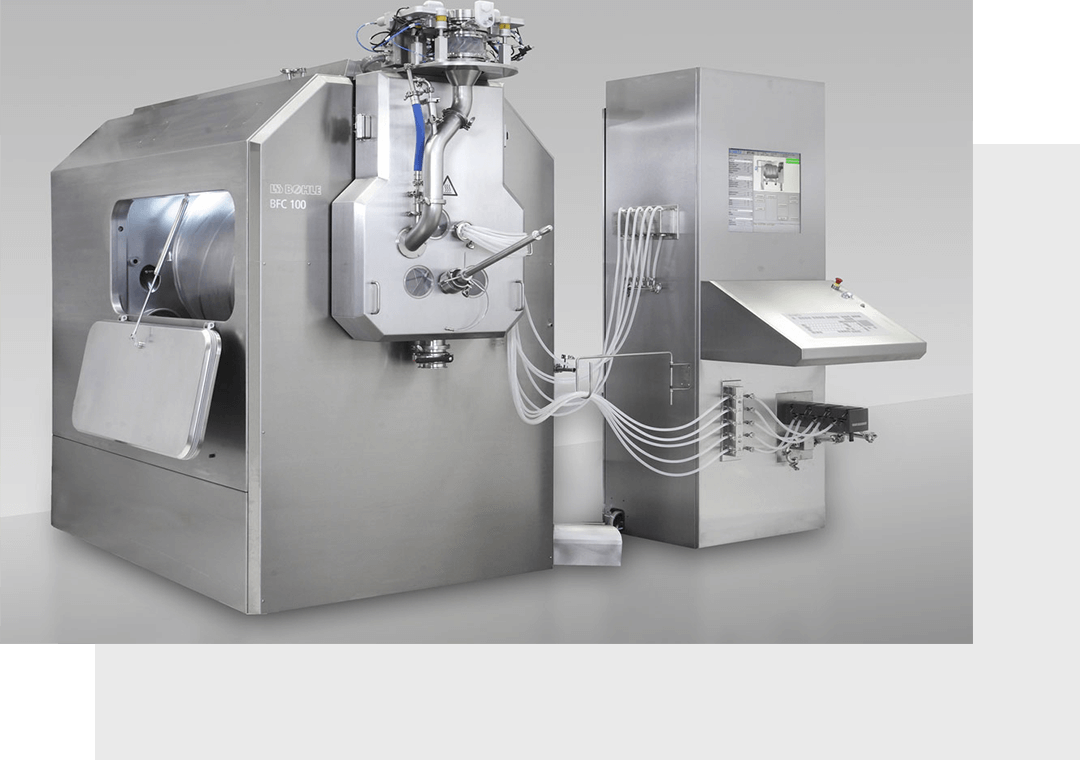 Prozessmaschinen für Ihre Containmentanwendung
Process machines for your containment application based on two application examples
Film Coater – BFC in the
Containment Version
The Bohle Film Coaters BFC have been a cutting-edge technology on the market for many years and guarantee excellent product processing with the highest profitability. L.B. Bohle has developed many containment coaters of the BFC series precisely to customer specifications.
The containment version of the BFC 100 enables operation in closed driving mode thanks to:
| | |
| --- | --- |
| | An automatic nozzle adjustment (stroke and angle) |
| | Feeding via a containment flap |
| | Connection for cleaning the containment flap and the charging pipe (optionally also during discharge) |
| | Connection for drying the containment flap and the charging pipe |
| | Sampling lance |
| | Side doors with inflatable seal (also standard for the film coater BFC) |
| | Removable nozzle holder. This results in great advantages when it comes to cleaning |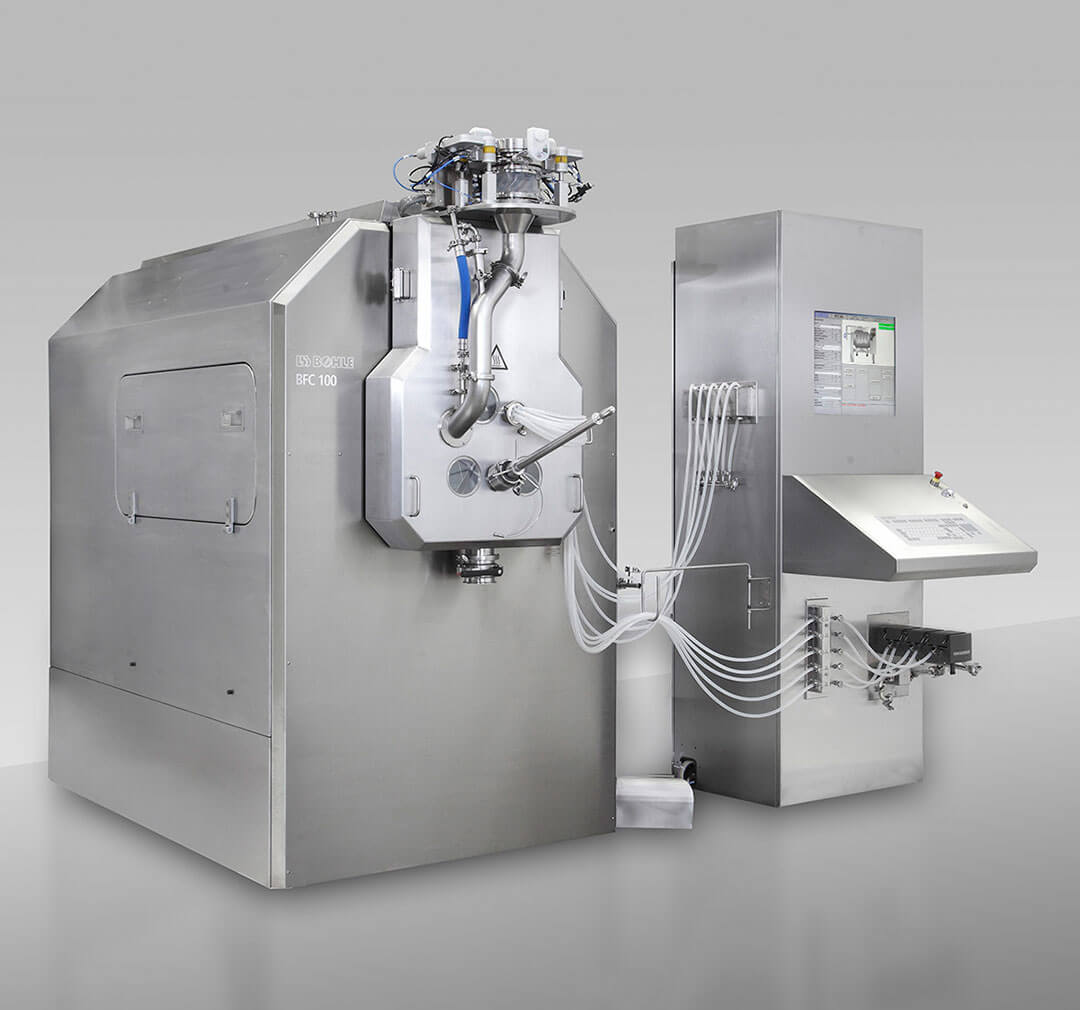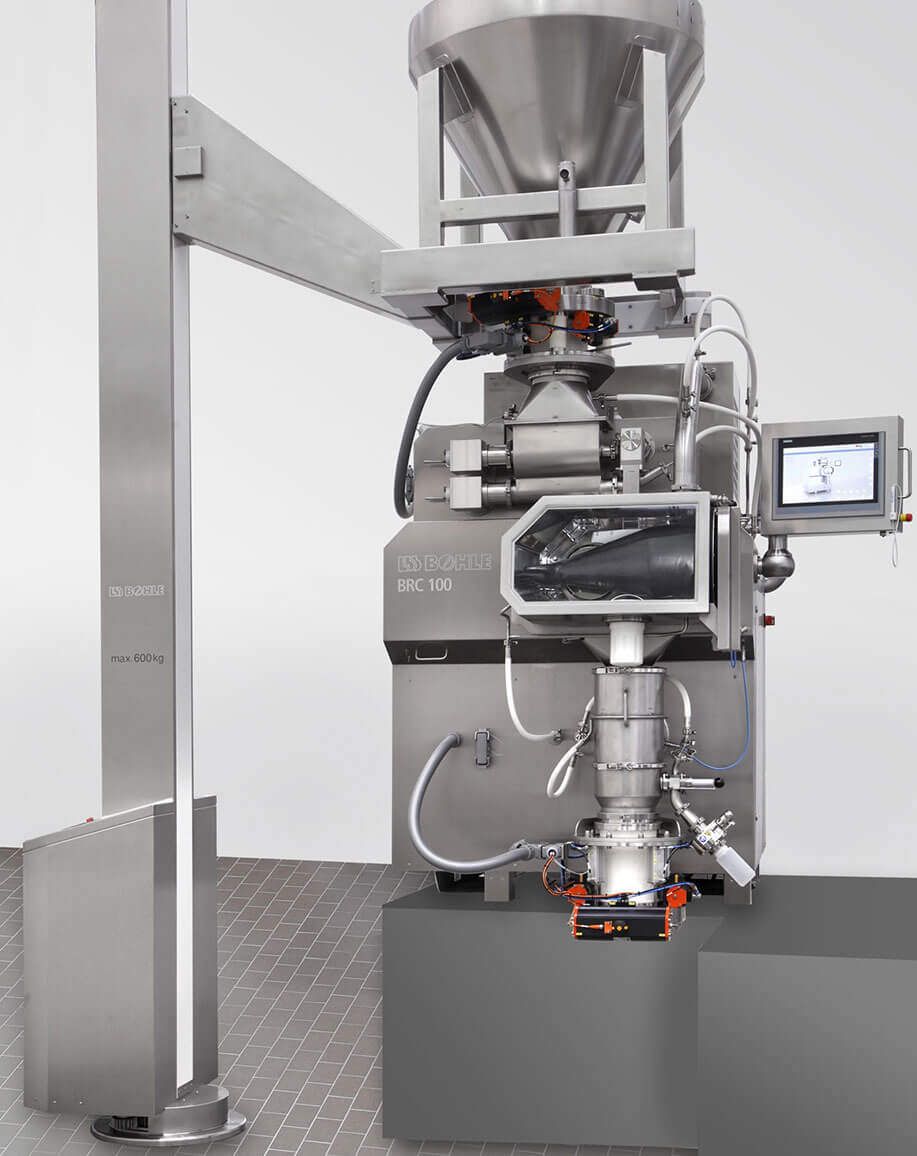 Dry Granulator – BRC in the Containment Version
Just like the standard version, the BRC containment dry granulator features a state-of-the-art electro-mechanical drive, completely eliminating the need for hydraulics. In addition, the special version is equipped with the latest and fastest control which enables fully-automated operation. The BRC is very user-friendly and low-maintenance, with very short set-up times.
Benefits:
| | |
| --- | --- |
| | Equipped for containment level OEB 5 |
| | Integrated isolator unit in the compactor unit with corresponding vacuum monitoring |
| | Glovebox with security prompt for the removal of scabs |
| | Containment port for the collection of scab samples |
| | Containment port underneath the sieve unit for the removal of granules |
| | Convenient access, since no full isolator unit is installed around the entire compactor |
| | Residue-free removal of product by integrated WIP equipment (WIP is also integrated in the standard version) |